Upgrade Your Pool Area with Long-Lasting Concrete Coatings
A pool area is an extension of your home, providing a place for you to relax and escape the heat of summer. Georgia Tough Concrete Coatings provide long-lasting solutions that not only enhance the beauty of your pool deck area but also protect it from damaging elements such as UV rays, chemicals, and extreme temperatures. Our concrete coatings use the highest quality epoxy and 3-layer flake system hybrid coatings materials that are specifically designed for outdoor use. With Georgia Tough Concrete Coatings, you can create a safe and durable pool area that will last for years with minimal maintenance.
Enhanced Durability: Protection Against Pool Chemicals and Foot Traffic
Your pool deck is subjected to constant exposure to chlorine, pool chemicals, and foot traffic. Over time, this can lead to fading, staining, and deterioration of the concrete surface. Long-lasting concrete coatings offer a durable protective layer that shields your concrete pool deck from these elements. With the right coating, your pool area gains resistance to chemicals, UV rays, and abrasions, ensuring that it maintains its pristine appearance for years to come. By investing in long-lasting concrete coatings, you are extending the lifespan of your pool area and minimizing the need for frequent repairs or resurfacing.
Slip-Resistance for Safety: Preventing Accidents
Safety is a top priority in any pool area. The surface around your pool can become slippery when wet, posing a risk of accidents. Long-lasting concrete coatings can be customized with slip-resistant additives to create a safer environment. These additives provide traction and reduce the chances of slips and falls, even when the surface is wet. By incorporating slip-resistant properties into your concrete coatings, you can enjoy peace of mind knowing that your pool deck space is safe for family members and guests of all ages.
Aesthetics and Customization: Elevating the Poolside Appeal
The appearance of your pool area plays a significant role in creating an inviting and enjoyable atmosphere. Long-lasting concrete coatings offer a wide range of design options and finish to enhance the aesthetics of your poolside. Whether you prefer a classic, decorative, or contemporary look, Georgia Tough Concrete Coatings can provide various colors, patterns, and textures to match your style preferences. The ability to customize your pool deck allows you to create a cohesive and visually stunning outdoor space that complements your home's architecture and landscaping.
Low Maintenance: More Time for Relaxation
Maintaining your pool area should be hassle-free, allowing you to spend more time enjoying the pool rather than tending to its upkeep. Long-lasting concrete coatings require minimal maintenance to keep your pool deck looking its best. The sealed surface is easy to clean, usually requiring only regular sweeping or gentle pressure washing to remove dirt and debris. By opting for low-maintenance concrete coatings, you can maximize your leisure time and minimize the time and effort spent on maintaining your pool area.
Heat Reflectivity: Cooler and More Comfortable Surfaces
During the summer months, the sun's heat can make pool deck surfaces uncomfortably hot, making it challenging to walk or sit comfortably. Long-lasting concrete coatings can be formulated with heat-reflective properties to reduce surface temperature and create a more comfortable poolside experience. By selecting coatings with heat-reflective technology, you can enjoy a cooler pool deck that allows for barefoot walking and lounging even on scorching days.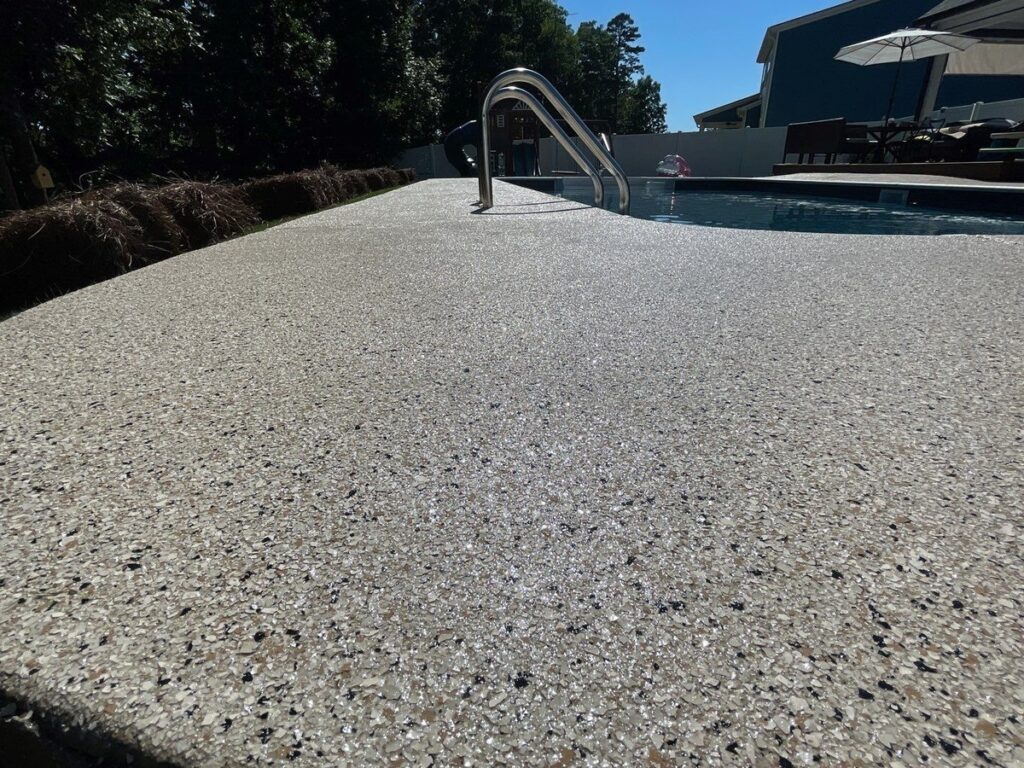 Why Do You Need To Invest In
Concrete Coatings For Your Pool?
Investing in long-lasting concrete coatings for your pool area is a smart decision that brings numerous benefits. With protection against pool chemicals, slip-resistant properties, customization options, low maintenance requirements, and heat-reflective surfaces, long-lasting concrete coatings provided by Georgia Tough Concrete Coatings offer the perfect solution for creating a beautiful and functional poolside oasis. With the expertise and quality products offered by Georgia Tough Concrete Coatings, you can trust that your pool area will be transformed into a stunning and enduring space that you and your family can enjoy for years to come.
Keep Your Poolside Looking Great!
Call Us Today!
If you're looking to upgrade your pool area with a long-lasting, protective coating that will make it look stunning and provide durability for years to come, Georgia Tough Concrete Coatings has the perfect solution. Our epoxy coatings are designed to protect concrete surfaces from damage caused by weather, wear and tear, chemicals, and UV rays. Get in touch with us today to see how we can help you create a pool area that looks amazing and stands the test of time. Contact our team of experts to learn more about our concrete coating services!