Top Epoxy Garage Floor Ideas for a Modern Home
When it comes to giving your garage a modern makeover, the floor often goes overlooked. Yet, this is precisely where some of the most dramatic transformations can occur. At Georgia Tough Concrete Coatings, we're dedicated to turning your ordinary garage floor into a masterpiece. How? With epoxy garage floor coatings! These coatings not only ensure durability and longevity but also add a touch of luxury to your home. Here are the top epoxy garage floor ideas to bring your modern home to the next level.
Metallic Epoxy for a Glistening Finish
Imagine the reflective surface of calm water or the subtle shimmer of a starry night. Metallic epoxy floors capture this essence by using metallic additives mixed into the epoxy resin. The result? A swirly, three-dimensional look that changes with the angle and intensity of the light. Perfect for homeowners looking to make a bold statement, this style is bound to capture the attention (and envy) of your guests.
Quartz Sand Epoxy for a Sprinkled Design
For those desiring a bit of texture and color variance, consider the quartz sand epoxy floor. By broadcasting quartz sand onto the epoxy while it's still wet, you're left with a sprinkled appearance. The benefit? Besides its visual appeal, this style offers added slip resistance. Choose from a variety of color combinations to match your home's aesthetic.
Flake Epoxy Floors for a Dynamic Look
The flake epoxy floor is among the most popular and for good reason. By scattering acrylic chips over the epoxy, you achieve a mosaic of colors. From subtle monochromatic schemes to bold contrasts, the design possibilities are vast. Plus, the flakes provide an extra grip, making the surface safer for kids and elders.
Solid Color Epoxy for a Minimalistic Touch
If you're someone who leans toward the 'less is more' philosophy, solid color epoxy is for you. Delivering a sleek and uniform look, these floors are perfect for modern homes that thrive on simplicity. Whether it's a bold navy or a serene gray, the choice is all yours.
Epoxy with Logos and Graphics
Georgia Tough Concrete Coatings is here to make your epoxy floor as unique as you are. Consider embedding logos, family crests, or any design that speaks to you. From sports teams to personal mantras, let your floor be a canvas that reflects your passions.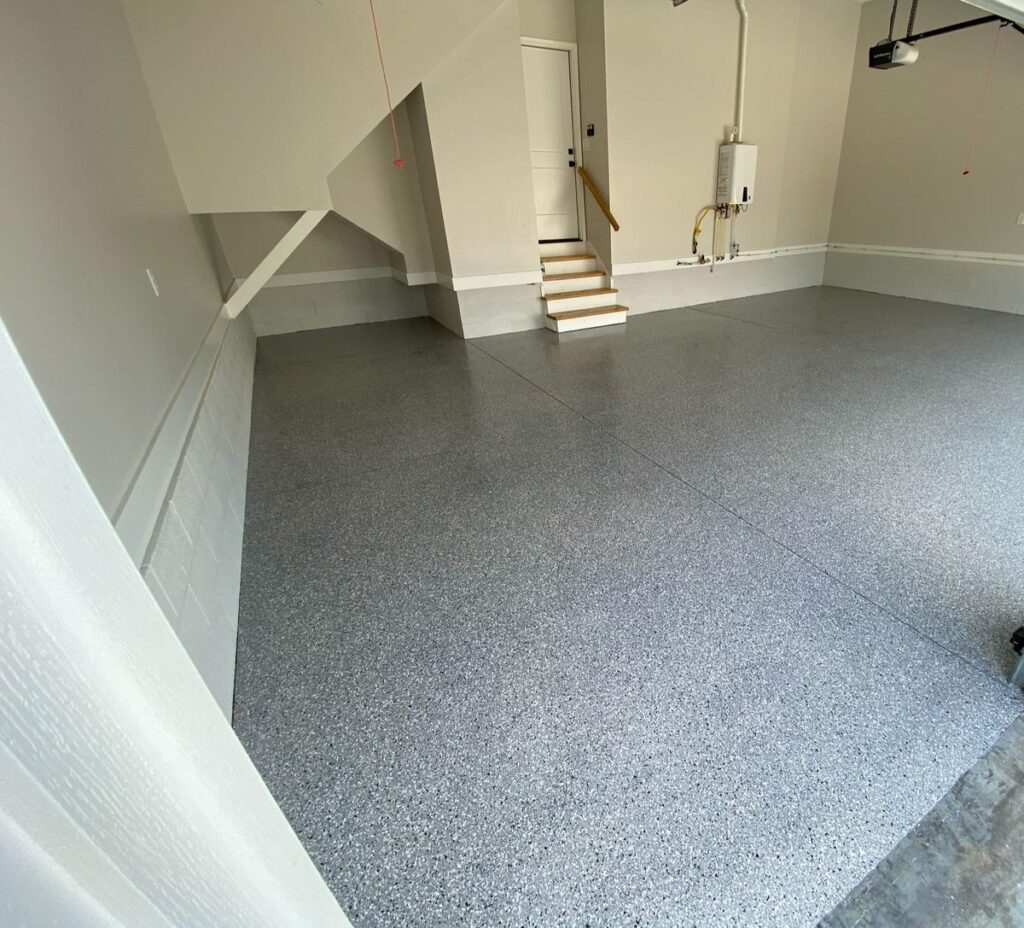 The Georgia Tough Concrete Coatings Advantage:
Beyond Just Aesthetics
Expertise: With years of experience under our belt, our team knows the ins and outs of epoxy application. This means flawless finishes every time.


Quality Materials: We believe in using only the best. Our epoxy coatings are durable, long-lasting, and resistant to chemicals, making them perfect for concrete garage floor.


Customer-centric Approach: Your satisfaction is our primary goal. From initial consultation to project completion, we're with you every step of the way.
Is there anything better than epoxy for
garage floors?
Polyaspartic Coatings: Faster cure times than epoxy and UV stable, but often more expensive.
Polyurea Coatings: Highly flexible and resistant to chemicals; however, they can be more challenging to apply.
Ceramic Tile: Durable and customizable but requires more maintenance and can be slippery when wet.
Concrete Sealers: Penetrates and protects the concrete, but doesn't offer the same aesthetic appeal as other options.
Concrete Stains: Provides a natural look by accentuating the concrete's character but lacks the protective thickness of epoxy.
While each option has its merits, epoxy remains a top choice due to its balance of durability, aesthetics, and cost-effectiveness.
Get Professional Results with
Georgia Tough Concrete Coatings!
Your garage is more than just a storage space or a shelter for your vehicle. It's an extension of your home, and it deserves the same attention and care. Epoxy floors, with their myriad design possibilities and undeniable resilience, offer an opportunity to transform this often-neglected space. At Georgia Tough Concrete Coatings, we're here to help you make the best decision for your home. From dazzling metallics to understated solids, the options are endless. So, are you ready to give your garage floor the makeover it rightfully deserves? Connect with us and let's make it happen!