Your garage is a space in your home that shouldn't be overlooked. It's the perfect place for storage, a workshop, or even a man cave. With so many uses, why not give it the proper attention it deserves?  With Georgia Tough Concrete Coatings, the premier contractor for garage floor coatings in Alpharetta, GA, you can transform your space into a practical and stylish area. Our team of experienced contractors will provide you with superior service so that your newly renovated garage floors surpass all of your expectations. Say goodbye to dull and boring floors for good – with Georgia Tough Concrete Coatings, you'll have an amazing garage that makes your life even better.
Why choose a professional
garage floor coating?
When it comes to garage floors, you want something that is practical, durable, and aesthetically appealing. Installing a garage floor coating is an excellent choice for several reasons. Firstly, a coating protects your concrete floor from wear and tear. Second, it helps prevent stains and other damage from spills. Third, it gives your garage a clean and stylish look.
How is a garage floor coating
applied?
Our team uses only the highest quality materials to install garage floor coatings in Alpharetta. The process begins with a thorough inspection of your garage floor to identify any damages that need repair. Once the damaged areas are addressed, we expertly apply a coating using state-of-the-art equipment. The result is a perfectly smooth, durable, and stain-resistant finish.
What are the benefits of choosing a professional
garage floor coating?
Installing a garage floor coating offers many benefits to homeowners. Firstly, it enhances the overall look of your garage. With a professional and sleek finish, your garage will look neat and organized. Second, it is incredibly low maintenance. Simply sweep or hose the floor to keep it clean. Additionally, our floor coatings come with a warranty, ensuring that you get a quality product that we stand behind.
What design options are
available?
Our garage floor coatings come in a wide range of colors and patterns so that you can choose the perfect fit for your home. Whether you prefer a classic gray look or something more funky, we have a solution for you. We can also work with you to explore custom design options, giving you the flexibility to match your home's decor.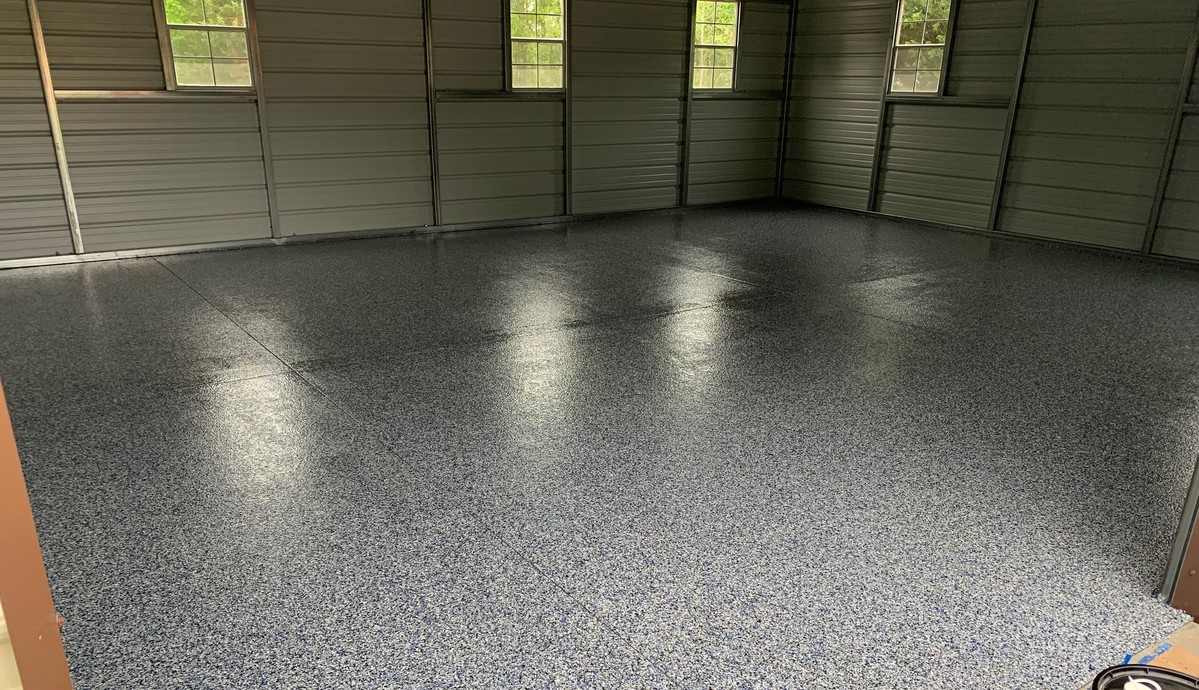 Alpharetta, Georgia is a vibrant city with a long history. Founded in 1858 as the county seat of Milton County, Alpharetta has continually grown and changed over time. In 1931, Milton County was merged into Fulton County, and Alpharetta began to become more of a commuter town for those living in Atlanta. Over time it has grown to become a thriving hub for business and recreation, boasting an abundance of shopping, dining, entertainment, and outdoor activities.
Alpharetta has emerged as a major business hub, attracting companies from various industries. The city boasts a thriving tech sector, hosting numerous technology companies, startups, and corporate headquarters. With a robust economy and a favorable business climate, Alpharetta continues to drive innovation and economic growth, providing abundant employment opportunities and fostering entrepreneurship.
Nature enthusiasts and outdoor lovers will find plenty to explore in Alpharetta. The city is home to an extensive park system offering a myriad of recreational activities. From serene walking trails and scenic picnic spots to sports fields and playgrounds, Alpharetta's parks provide ample opportunities for relaxation and adventure. Residents and visitors can also enjoy golfing, biking, or fishing in the area's beautiful natural surroundings.
Transform Your Garage Today: Contact Georgia Tough Concrete Coatings for a Free Consultation!
Ready to transform your garage with Georgia Tough Concrete Coatings? Don't wait any longer! Take the first step towards a remarkable garage flooring needs by contacting us today. Our team of experts is standing by to schedule a consultation, discuss your specific needs, and provide personalized solutions. Whether you're seeking enhanced functionality, aesthetic appeal, or long-lasting durability, Georgia Tough Concrete Coatings has you covered. Trust us as your reliable partner for garage floor coatings in Alpharetta, GA. Let's turn your garage into a space you'll be proud to show off. Get in touch with Georgia Tough Concrete Coatings now and experience the difference we can make for your garage!